Virtualization with VMware and Hyper-V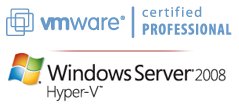 Flexible Architecture. Energy Efficiency. Lowest TCO.
Why should you virtualize your I.T. infrastructure? How dows reducing your overall I.T. costs while stretching your existing assets' efficiency and utilization sound?

Consolidating servers with virtualization allows you to combine common resources and actually use the hardware you have. Legacy deployment models have been a one-for-one method - one application equals one server. Typically this equipment is extremely underutilized, resulting in lavish costs for hardware maintenance, power and cooling while running at very low utilization levels.

Virtualization allows you to provide for application availability and business continuity. By deploying virtualization now, you can load balance and migrate entire environments with no downtime. You can say goodbye to service interruptions caused by hardware failure with virtualization with virtualization's immediate recovery capabilities.

Desktop virtualization allows centralized deployment, control and management of secure desktop environments across the enterprise and for remote users.

Net-Noggin provides a clear vision for your virtualization roadmap, helping you take full advantage of your investment in a secure, stable virtualization deployment. We're comfortable moving within both market leading virtualization solutions: VMware and Hyper-V.